AURP Announces 21st Annual Awards Of Excellence Winners At The 2016 International Conference In Oklahoma City
Western Research Parks Recognized with 2016 Outstanding Research Park Award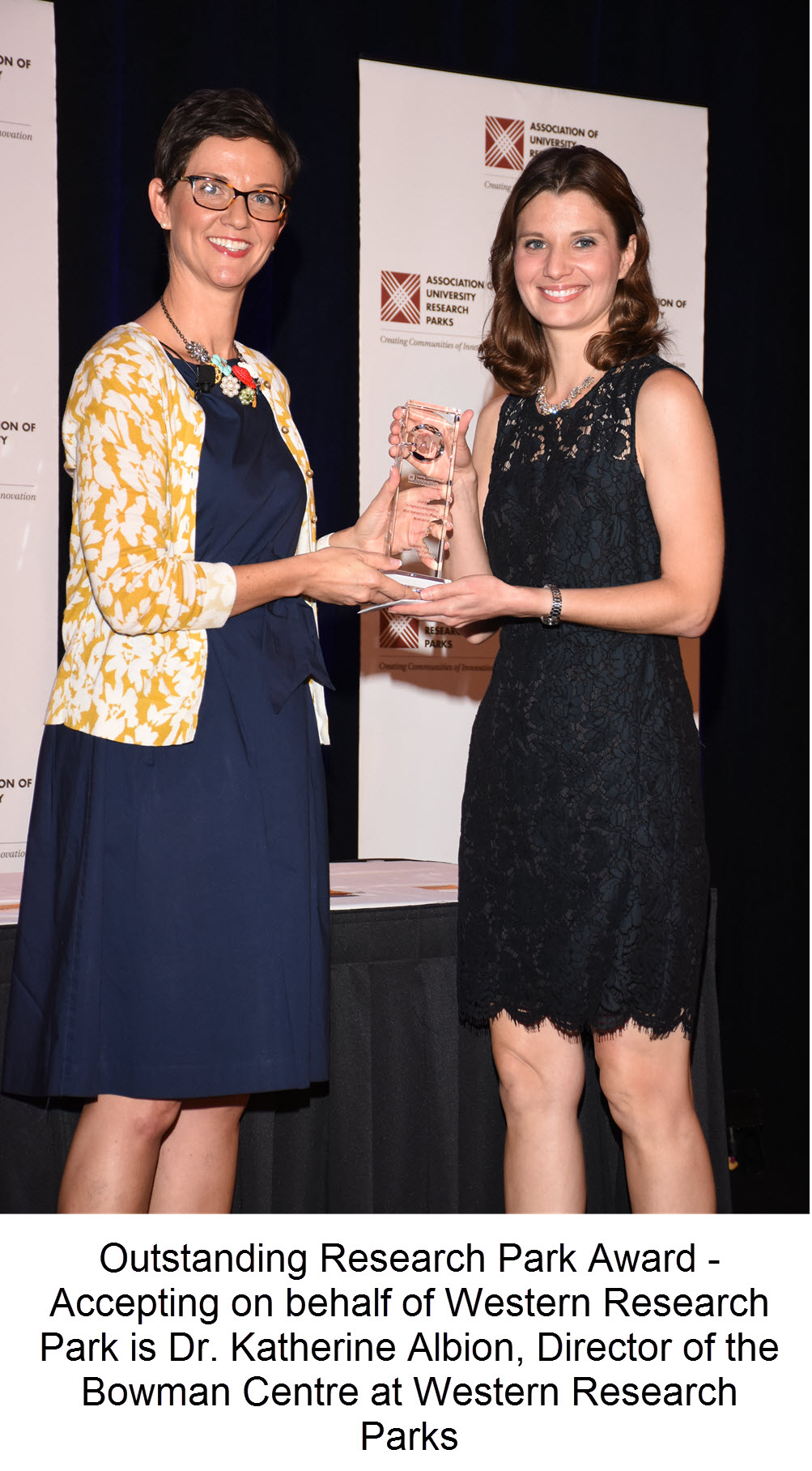 OKLAHOMA CITY, OK, September 29, 2016 – The Association of University Research Parks (AURP), a professional association of university related research and science parks, announced today the winners of its 21st Annual Awards of Excellence, which were presented during an awards luncheon held at the association's 2016 International Conference in Oklahoma City. Award categories included: the Outstanding Research Park Award, Emerging Research Park Award, Innovation Awards, Career Achievement Award, and the Leadership Award.
The Outstanding Research Park Award recognizes university research parks and their leadership and encourages continuous evaluation and development of best practices for the research park community. This year's prestigious award in this category went to Western Research Parks, part of Western University located at London, Ontario in Canada. The community of three research park campuses includes the original park now named Western Discovery Park, the Western Advanced Manufacturing Park and the Western-Sarnia-Lambton Research Park.
"Western is extremely proud to be the first research park in Ontario to receive this recognition," said University of Western Ontario President Amit Chakma. "Not only are we creating a world-class research culture at Western, but we're doing so in conjunction with our community to bring both economic and societal benefits locally, nationally and internationally."
The parks serve as a major showcase of Western University's commitment to both research, with the Stiller Centre, Canada's largest biotech incubator, the Bowman Centre, Canada's largest clean-tech incubator, focused on large-scale industrial technology—as well as economic development and engagement within the region, with an estimated $125 million contributed back to the local community.
"This is a fitting recognition for our research parks, which have played a significant role in fortifying relationships between academics and the business community for nearly 30 years," said Western's Vice President Research John Capone. "We're proud of the companies the parks have attracted, strengthened and retained in our region—allowing us to become a key contributor to southwestern Ontario's business ecosystem."
Click here to real the entire release about all the winners.
---
AURP 2016 International Conference Kicks-off in Oklahoma City
OKLAHOMA CITY, OK, September 28, 2016 – The Association of University Research Parks (AURP) kicked-off its annual International Conference today in Oklahoma City (OKC) with hosts University of Oklahoma (OU) Research Campus and the Greater Oklahoma City Chamber. This event is being held primarily at the Skirvin Hilton today through September 30, 2016—drawing industry experts and research park leaders from across the U.S. and internationally.
This year's theme is "Harnessing the Winds of Change: Pioneering the Future of Ingenuity at University Research Parks." With research parks evolving and changing rapidly, parks are forced to examine and improve upon current processes and strategies. This year's conference will address this movement, as well as the current university research park landscape, and provide insight and best practices on how research parks can thrive through the power of ingenuity.
Click here to read the entire release and learn more about the other winners.
---
Harnessing—Pioneering—Ingenuity
These words evoke a feeling of strength and fortitude—eliciting a sense of adventure and excitement in what the future may hold. Innovation, technology and groundbreaking discoveries coming out of Research Parks are represented through these powerful words.
Each day, Research Parks are faced with new and exciting challenges and must adapt to meet the ongoing needs of the Park, its communities and its corporate and government partners. Research Parks are evolving at a rapid pace to remain relevant and cutting-edge to address its constituent's growing needs and face the future head-on.
To address these "winds of change" and help research parks harness these challenges through ingenuity and determination, AURP is holding our 2016 Annual International Conference in Oklahoma City this fall.
Click here to download the conference program
---
---
Thank You to this Year's Plenary Speakers
AURP Sponsorships